---
Saturdays at my Crossfit box as well as many other is a community workout. Anyone from the community is welcome to come in and workout with us free of charge. We usually have 3 or 4 new people come in for the workout on any given Saturday. Well today was no different class starts at 9:00 am and we had about 25 people in the class and four new individuals showed up to see what crossfit is all about.
The Crossfit Workout
Well today's WOD (Workout of the Day) consisted of 20-minute AMRAP (As many rounds as possible) in the 20-minute time frame, but on top of the AMRAP, we had a max calorie row on the concept 2 rower during the 20 minutes as well. The workout consisted of 20 burpees, 30 dumbbell snatch's, 40 goblet squats, and then we went back down so 30 dumbbell snatches, and then 20 burpees. Now all of these movements were done as a team; which means that all of these movements had to be done in sync at the same time as the other teammates. You were able to have a team of 3 or 4 members, I wound up on a team of 3. So the way this all went down was 2 of the team members would be working at the same time in sync on the movements I just listed and then the 3rd teammate would be on the rower doing the max calorie row.
Now you could switch places with each other at any point during the workout, however, the rower never stopped moving unless you were switching places, but you could not continue to work on the movements until both partners were ready to continue at the same time. This workout was really fun and my team took first place in the max calorie row with 275 calories, and we took second on the movements completing 2 full rounds and 4 dumbbell snatches.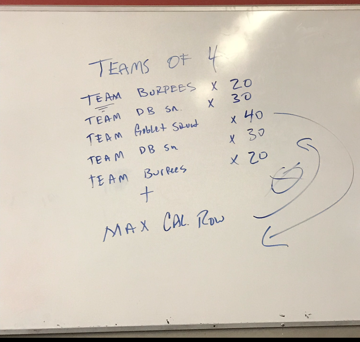 ---
CrossFit Community
Now for those that have never done CrossFit, I strongly encourage you to give it a try. Yes, the workouts are tough, but there is nothing that is done in a CrossFit box that you are not capable of doing with some type of scaling option no matter your fitness level. The thing that separates CrossFit gyms from your everyday normal fitness gym with machines is the sense of community. I have never been to a normal commercial gym where other people inside go out of their way to encourage you to finish your workout or get one more rep, everyone just puts their headphones on does some bicep curls and then goes home.
In a CrossFit gym, you will never see someone doing a workout where there is not a handful of people standing there clapping and cheering you on to the finish. Not only is the community great inside the gym, but outside as well. Members from the gym have Christmas parties together, we go to birthday parties for other members children, we have annual cookouts, and we do community outreach such as collecting canned good for donation, or helping fill up backpacks for families that can't afford to gather all the necessary supplies for the school year.
So if you have ever thought about trying out CrossFit, DO IT you are not just joining a gym. You are joining a family of like-minded people who all want to improve their quality of life through fitness and nutrition!
Origionally published on Steemit, republished here with the author's permission.
You may also like this brewery article by Eric Minix!